Top 5 Web AR Examples in 2020
Web AR is taking the internet by storm. Brands, organisations and marketers are all starting to look at Web-Based Augmented Reality technology and identify use-cases within their business. To help inspire your next Web AR marketing campaign, here is 5 Web AR examples done right.
Update 04/14/20: during the current climate, we have seen a dramatic increase in the amount of brands looking to deploy Web AR marketing experiences. Web AR offers a solution to engage with consumers, who in many cases are restricted to their own homes, providing the opportunity to still deliver an immersive brand experience.
These experiences can be activated through direct linking from channels like social media, email and website, meaning that the entire AR campaign is delivered digitally. Something to keep in mind when thinking about marketing to consumers stuck at home! Now onto the list…
Web AR 3D Experiences – Black and Decker
At number 1, we have this impressive 3D AR business card that incorporates a classic old-school Stanley ruler created in 3D from scratch by the Aircards dev team. The Web AR experience is activated by scanning a QR code on the back of the card, directing users to a unique URL. Once at the URL, users can point their phone at the business card to watch it spring to life.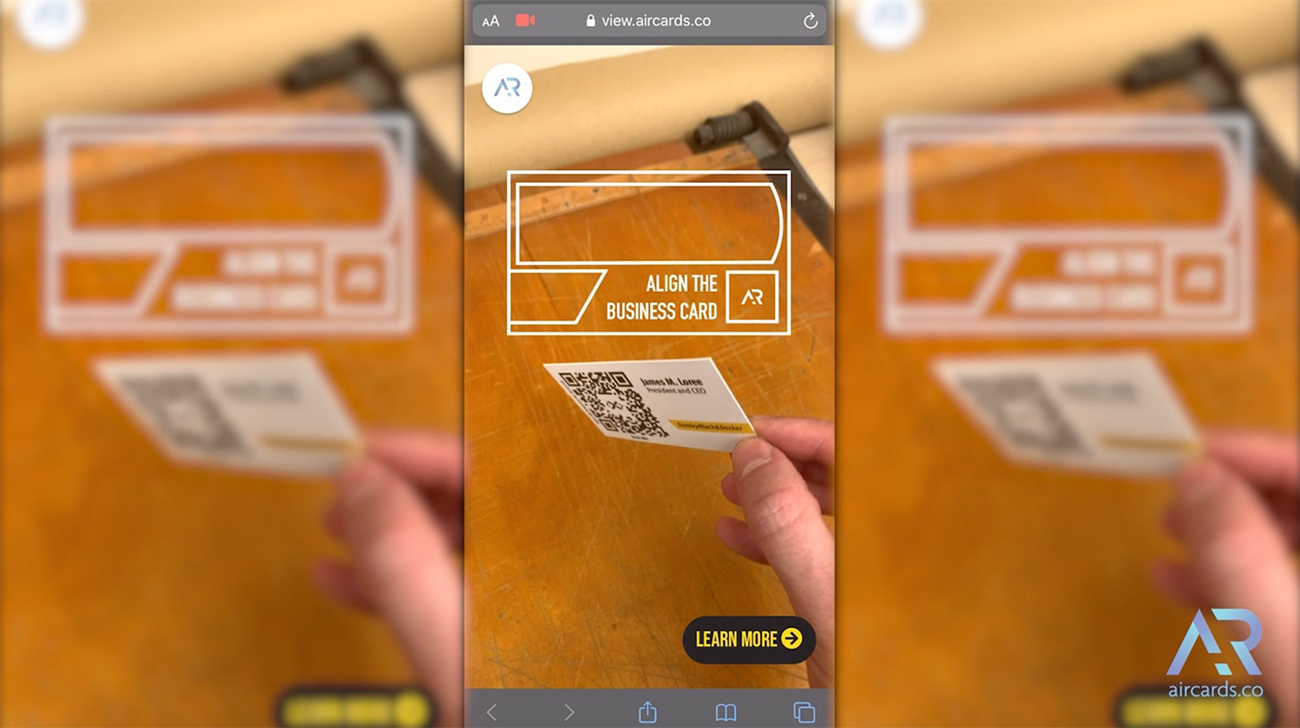 This proof-of-concept experience developed for Stanley Black & Decker included floating buttons with click-throughs to social media and email. This could also be used alongside analytics tracking to monitor how many monthly clicks the card receives, and which buttons are most popular. Taking it even further, you could combine this with a re-marketing campaign to target potential customers that have scanned your card with either Google or social media ads… now that's impressive!
‍
Web AR Virtual Events
There has been widespread negative effects to the events industry in recent months with companies seeing their upcoming live events cancelled. It looks like there won't be many large live events happening any time soon, so now we see brands looking to pivot their live events to the virtual space. Hosting events in Augmented Reality is a super fun and engaging way to give your audience an interactive event experience.
Unilever owned brand, Pot Noodle, hosted their very own Virtual Alternative Careers Fair within AR. What was supposed to be a live event with a wide selection of graduate employer booths, was turned into a virtual event with the graduate employers being given their very own custom branded 3D booths that students could place into their own home or garden to experience the careers fair! Students had the option to 'tap play' on each booth TV screen to watch an introductory video from the different employers, as well as the option to 'tap to apply' on the available careers of their choosing.
Students were given a highly engaging and interactive experience. This clearly pushed the boundaries of what is possible within web-based Augmented Reality, and shows how exciting this technology can really be. Virtual events are going to be common place very soon… are you ready to launch your next event in AR?
Web AR Immersive Portals
Transporting people to different countries at the tap of a button, or even to different worlds has always been part of science fiction. But now we are seeing companies use the power of web-based AR to give their audience portals to destinations of their choosing. One particularly creative immersive portal is this one used by Dell Technologies.
Dell used a custom 3D 'experience room' using 360 degree video content to give users the opportunity to place the experience room within their own environment. Users could 'tap to place' and then walk into the 360 room to view the immersive content. This is a great example of coupling two technologies to create an impressive experience – both Web AR and 360 video.
WebAR Cakes – Corporate Events
Web AR has now officially made it's way into edible experiences! UK-based company Print Cakes have teamed up with Aircards to develop app-less Augmented Reality cupcakes, which includes custom printed cakes designs!
Print Cakes make delicious fresh baked cupcakes with custom printed icing for use at corporate events. These can be customised with logo, branding or a design of your choosing. Working with Aircards, they now offer clients the ability to purchase custom branded cupcakes with in-built Augmented Reality experiences. These are a guaranteed crowd pleaser, and a super unique use of Web AR technology.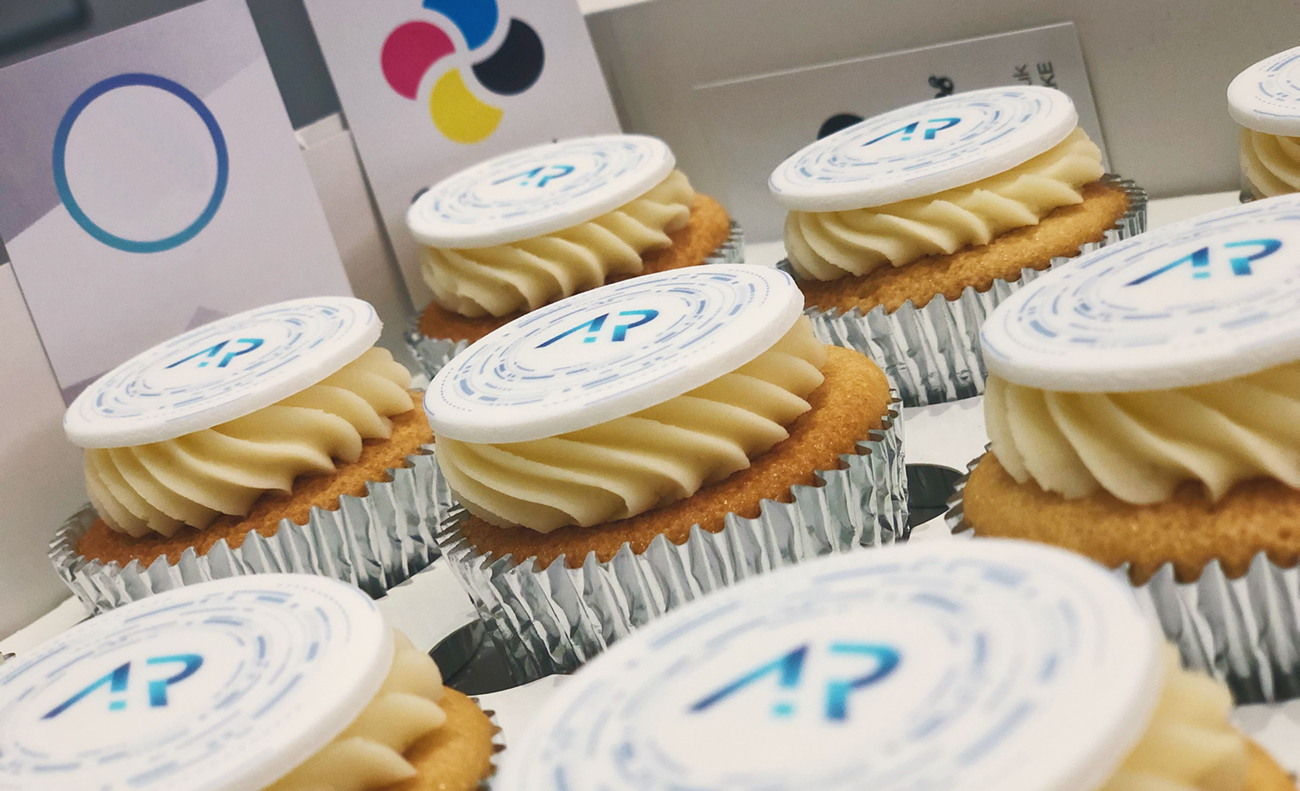 Attendees can activate the Augmented Reality experience with either the iOS or Android native camera app. Web AR event cakes are just another example of the innovation that is bursting out of the Augmented Reality industry. See the cakes in-action below.
Web AR in Wedding Cards
This is a great example of consumers using a WebAR experience to celebrate the happiest day of their lives. That's right, Web AR isn't just restricted to use by business. This is a clear use-case for a consumer market – now all we need is a platform for consumers to access to purchase their own instead of going through agency development. Maybe something is coming soon from Aircards? That's all we can say for now!
Taking a selection of their favourite photos and videos to create a beautiful memento of their perfect day, take a look at the experience.
Web AR for Direct Mail
One of our favourite Web AR examples is this Augmented Reality direct mail campaign launched by Hewlett Packard. HPE launched an AR Direct Mail campaign to existing customers for the promotion of their software product launch, HPE Primera.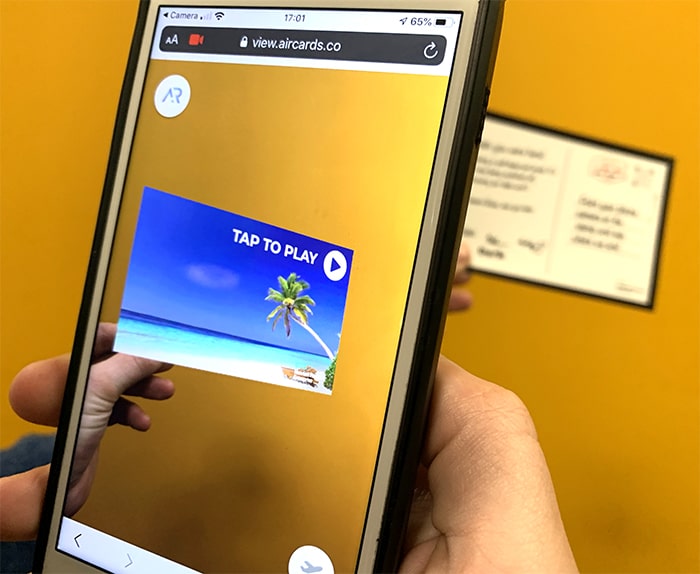 HPE sent a beautifully designed flyer to existing customers, which included an Aircards Web AR activation QR code. Once scanned, customers could point their phone at the printed material to activate the Image Tracked AR video which was tracked to the flyer itself. Teleporting users to a location of their choosing, either a woodland scene, a mountain range or a beautiful beach. You can see the full HPE Web AR experience below.
Web AR for Promo
Nationwide Insurance worked with Aircards to create a Web AR Christmas card to share a positive message and 'wow' their existing customers with something a little more unique than your standard printed postcard. Nationwide are constantly on the forefront of innovation and this is just another brilliant example of the brilliant forward-thinkers in their organisation.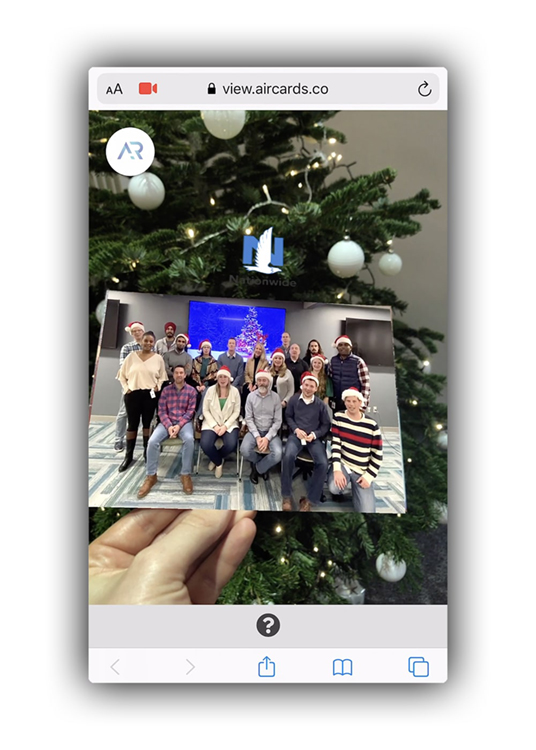 What is next for Web AR?
The use of Web-based Augmented Reality will surge in 2020 within a range of industries. Marketing is an industry which will see the highest growth, given that the previous hurdle of users required to download an app has been removed. Increased use-experience gives marketers the chance to capitalize on super high engagement rates and equally as high CTR's.
If you're looking at these brilliant Web AR examples because you're interested in Augmented Reality for your organisation, you're in the right place. Check out our Web AR technology features, or contact us to get started.
Original Article: https://www.aircards.co/blog/web-ar-examples-in-2020